FLAWLESS AT ANY AGE
Gravity sees no barriers and the idea of ageing gracefully now seems out of reach.
Anti Wrinkle treatments are a safe cosmetic procedure that, when done in succession, offers subtle refreshment without the scalpel. Tailored treatment programs designed by our talented Cosmetic team effectively soften fine lines and wrinkles with almost immediate results.
This March, Results Laser Clinic invites you to put your #SKINFIRST and embark on an anti ageing journey to enhance, refresh and restore your youth.
COMPLIMENTARY CONSULTATIONS AVAILABLE WITH OUR TALENTED COSMETIC TEAM
Timeless Beauty
Throughout our beauty evolution – there are internal and external factors that contribute to skin ageing including pollution, sun exposure, lifestyle, genetics and lack of hydration. As we age, our skin loses collagen and elasticity. Resulting in the appearance of fine lines, creases and expression lines. Our overactive muscles create dynamic lines, which left untreated become static lines or depressions in the skin.
In our 20s
Living hard and fast in our 20s exposes us to environmental damages, increased alcohol consumption, excessive lifestyles, reckless nights with no sleep and constant exposure to damaging UV rays. All the fun-filled activities can take their toll on the skin's structural integrity.
In our dirty 30s
"The best age" according to fashion icon Diane Von Furstenberg. But is it the best decade for our skin? In our 30s collagen and elastin degrade as well as the decline of cellular renewal. This leads to a duller complexion and uneven skin tone.
In our flirty 40s
We all want to look fabulous in our 40s – however this the decade when our skin becomes thinner and dehydration is a more prominent issue as barrier lipids are not as pronounced. Signs of skin ageing becomes more apparent such as dark spots and dullness in complexion.
In our rolling 50s
The protective barrier lipid layer lessens, leading to less efficiency in retaining moisture. A peek in the mirror reveals wrinkles and fine lines from years of broiling your skin in the sun, dehydration and exposure to environmental damages.
Turn back time
And whilst you have devoted self care over the years – wrinkles may still form most often on the forehead, between the eyebrows (frown lines), top of the nose (bunny lines) beside the eyes (crows feet) and around the mouth (smokers lines).
Anti Wrinkle treatments is a non-surgical solution that focuses on creating a barrier between the overactive muscle and nerve ending, which minimises movement and improves the appearance of fine lines.
Your Skin priorities are our priority!
Does it hurt?
Our talented Cosmetic team use innovative techniques to ensure minimal discomfort – so you can sit back, relax whilst we turn back the clock.
How many units are required?
An accurate dosage is dependant on your priority areas and your desired results. When you book a complimentary consultation, our talented Cosmetic team can guide you through their recommendations to ensure we reveal the best version of you.
How often should I have treatments?
Maintenance is key on your anti ageing journey. After your first appointment, it is essential to book in for a complimentary review appointment 2 weeks after. For maximum results we recommend treatment every 3 to 6 months for a continuous youthful appearance.
When can I expect to see results?
Results can reach their full effect within 7 to 14 days, however some may see visible results within 2 to 3 days. Keep that in mind for your next soiree.
#REALRESULTS FOREHEAD LINES
 #REALRESULTS FROWN LINES
#REAL RESULTS CROWS FEET
Book a free consultation – no commitment
Learn more on how to put your #SKINFIRST with our tailored treatment programs designed to target your skin priorities and maintain your skin's health!
Results Laser Clinics are Australia's most trusted provider of Laser Hair Removal, Skin treatments & Cosmetic Injectables. Results Laser Clinic has 44 clinics nationwide & are committed to delivering results that make you look & feel your best. For more information, contact our experts on 1300 722 432 or via Facebook chat, to ask any questions, or to arrange a complimentary consultation.
HOW TO PERFECT YOUR POUT WITH LIP FILLERS
Perfecting your pout is now just as mainstream as manicures – a phenomenon that has infiltrated our social media feeds since Kylie Jenner's famous lip enhancement.
And whilst we all love shape and sizes, Results Laser Clinic want you to fall back in LOVE with your lips with our Dermal Lip Fillers from $380 per ml.
What are Dermal Fillers?
Dermal Fillers are the safest non-surgical treatment that will cosmetically enhance, add volume or definition to areas of the face that lack volume. Our talented Cosmetic Nurses can enhance your cheekbones, plump up your lips or contour your jawline minus the surgery!
What are Lip Fillers?
As we age, our skin loses its firmness, elasticity and volume. The most commonly used fillers are clear gels that are comprised of Hyaluronic Acid (HA) – a natural sugar already present in the body. Due to its ability to store moisture, HA is responsible for giving your lips a plump and hydrated look.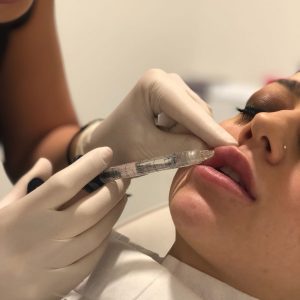 Which Lip shape are you?
Whether you would like to channel your inner Angelina Jolie, enhance your cupid's bow or simply add symmetry to uneven lips – our talented Cosmetic team are there with you every step of the way. Results vary from lip to lip as there are internal and external factors that contribute to the longevity of the product. These variables include diet, lifestyle, skin, muscle movement, stress and alcohol consumption.
It's a Lunchtime affair
Lip fillers are now as routine as a coffee break! Subtle changes using a natural approach can create an overall enhanced look to improve your confidence. Our fully qualified Cosmetic Nurse will guide your through her recommendations to ensure that we achieve YOUR perfect pout.
It is common for swelling or bruising to occur a few days after your "tweakment" – however you will see a noticeable difference in volume and shape of your lips almost immediately. Swelling may be present for up to 2 weeks before you are ready to pucker up!
Pain is Love
Does it hurt? There may be slight discomfort whilst the filler is being injected in the lips – however we minimise this by applying numbing cream before treatment.
Love Thy Lips
Your face needs to be treated as precious artwork so it is important that you maintain treatments every 3 to 6 months. It is also a MUST to book in your 2 week review appointment so we may track your injectables journey.
Book a free consultation – no commitment
Read more on Dermal Lip Fillers.
Results Laser Clinics are Australia's most trusted provider of Laser Hair Removal, Skin treatments & Cosmetic Injectables.Results Laser Clinic has 40 clinics nationwide & are committed to delivering results that make you look & feel your best.For more information, contact our experts on 1300 722 432 or via Facebook chat, to ask any questions, or to arrange a complimentary consultation.
INVEST IN YOUR CONFIDENCE – Cellulite Reduction does it really work?
For some, Summer can be daunting when it comes to our body confidence. Despite how much we hit the gym, eat healthy or trial every juice cleanse – sadly, almost no one is immune to the curse that is cellulite!

Whilst we embrace different shapes and sizes, cellulite is known to cause body woes and particularly challenging to remove. Results Laser Clinic have accepted this challenge after the founder & owner famously hopped on a plane to Israel to trial Pollogen's TriLipo Radio Frequency technology. Clinically proven in 60 countries, Pollogen TriLipo Radio Frequency technology uses non surgical techniques to effectively reduce the appearance of stubborn cellulite. Say what!?
Invest in your confidence
Using Pollogen's TriLipo Radio Frequency technology, our Cellulite Reduction treatments are safe, non-invasive, fast, effective and suitable for ALL skin types. Minimal downtime is experienced – meaning there is little interference with your daily routine and more time to strut your stuff.
This month, Results Laser Clinic have tailored summer MUST HAVE Cellulite Reduction treatments leaving you with the confidence you have always dreamed of. But what is cellulite and how does cellulite reduction work?
The Curse of Cellulite
Cellulite is the dimpled or lumpy appearance of the skin that commonly appears on the buttocks, stomach and thighs. The 'cottage cheese-like' dimples are caused by accumulated fat deposits which push or distort the connective tissues under the skin in both men and women.
Lift. Tone. Shape and Repeat
It is possible to reduce cellulite and smoothen the appearance of the skin with Trilipo Radio Frequency for a beach ready bod!
Stage 1 | Lift
Using a special 3 pronged hand-piece, targeted fat cells are heated using Radio Frequency, releasing the fat. Pressure and a gentle massage is applied to priority areas to strengthen and stimulate blood flow to the area, which also regenerates collagen fibres.
Stage 2 | Tone
Your body will now naturally metabolise and remove the released fat via the lymphatic drainage system. Immediately after or within 2 hours post treatment, it is a MUST to factor in a minimum of 20 minutes cardio exercise to aid the removal of the released fat. It is also important to remain hydrated and protect your skin from sun exposure with a high quality sunscreen – our Sun Recovery Essentials Kit @ $49 is perfect post-treatment. This includes an Active Recovery Gel to reduce the redness PLUS an Active Protect SPF 50+ for extra protection from the sun. Read more about these 2 MUST HAVE products for Summer!
Stage 3 | Shape
The reduction in the volume of fat cells encourages the targeted area to smooth out – whilst the strengthened collagen fibres tightens and lifts the skin. Leaving you with the confidence you have always yearned for!
Stage 4 | Repeat
For maximum results, we recommend 6 to 10 treatments at weekly to fortnightly intervals. This should be combined with a healthy diet and regular exercise.
Book a free consultation – no commitment
Read more on Cellulite Reduction
Results Laser Clinics are Australia's most trusted provider of Laser Hair Removal, Skin treatments & Cosmetic Injectables. Results Laser Clinic has 40 clinics nationwide & are committed to delivering results that make you look & feel your best.
For more information, contact our experts on 1300 722 432 or via Facebook chat, to ask any questions, or to arrange a complimentary consultation.
Summer Is Calling – Skin Essentials
It's officially time to dig out your denim shorts and gypsy dresses, get prepped for al fresco drinks, waterside dinners, sandy feet and ocean dips… yes summer is calling! At Results Laser Clinic, we want you to feel your absolute best and this month have created offers tailored to get that perfect au-natural youthful glow and beach bod.
Summer Skin Essentials
Microdermabrasion & Oxygen Fusion
Are you after instant skin hydration & rejuvenation? Then this treatment is for you!
The Benefits
– Deeply exfoliates & polishes skin
– Instant deep hydration
– Sculpts jawline & plumps cheeks
– Diminishes fine line & wrinkles
Refresh your skin in an instant, a perfect skin 'pick-me-up' with treatment time at 25 minutes.
We recommend 4 – 6 treatments for best results and to keep that gorgeous youthful glow throughout the summer months.
Cellulite Removal & Body Contouring
Our cellulite removal and body contouring treatments use the world renowned Pollogen's, Trilipo Radio Frequency technology. We use a none invasive hand piece to gently massage your problem areas, this creates an internal heat that smooths and restructures fat cells and naturally stimulates your metabolism, great for people looking for that helping hand to confidence.
The Benefits
– Smooths & tightens skin
– Contours & reshapes skin
– Reduces appearance of cellulite
– Promotes metabolism
– Breaks down fat cells
Results are visible after the first treatment!
For long lasting Results we recommend 6 – 10 treatments for best results.
Treatment times start at just 30minutes depending on the amount of areas you target.
Non-Surgical Facelift & Micro Express
Enhance your natural features with a non-surgical face, great to reduces effects of ageing or used as a preventative. Using Pollogen's, Trilipo Radio Frequency Technology, it's non-invasive and gives a natural lift to facial features, tightens skin and reduces fine likes and wrinkles.
The Benefits
– Shapes & remolds skin
– Lifts and firms the face
– Reduces fine lines and wrinkles
– Stimulates collagen & elastin
Turn back the time in only 30 minutes with a fast and affordable treatment that lasts in the long term.
Great alternative to fillers and anti wrinkle injections
For best Results we would recommend a 6 – 10 treatments
To find out more and get a quote tailored to your needs, book a FREE consultation now!
For this month's deals on Laser Hair Removal visit our prices page click here
To find your nearest clinic click here or call 1300 722 432
Grooming with Laser Hair Removal
Although beards have become a hipster fad, male hair removal is on the rise, but how far should a man go with his manscaping?
Are hairless legs just for athletes, should a man trim or go bare down there? Should he wax or get laser hair removal and be-rid all unwanted hair permanently? But most of all, if a man removes his hair from his body will he still be considered a man? YES! Think Vin Diesel or Channing Tatum.  Women want them and men want to be them.
At Results Laser Clinic we understand the concerns for men and their unwanted hair and as one of Australia's most trusted skin and laser clinic, your priorities are in the right hands, when you step foot in one of our clinics.
We cater for all men, with different skin tones, and will help personalise your hair removal treatment plan to best suit your priorities, wants and needs, producing optimal results.  We only use non invasive medical graded laser technology that emits light absorbed by the colour in your hair follicles.  The laser travels under your skin to the root of the hair, disabling your hair regrowth but does not damage your skin, resulting in hair free areas from as little as 6-10 treatments.
Fact: Now with more than 30% of our clients being men, we are definitely seeing a rise in male clients.  In fact up to 85% of Australian men are opting for permanent hair removal with full support of their loved ones, not only for their back, chest or midbrow, but now for their cheeks and male Brazilians!  To be hair free, smooth and sexy is now the trend!  After all, we are in the 21st Century.
So when it comes to male grooming, here are our do's and don'ts to help you make an informed decision for your hair removal treatments with us.
Here's what we believe men shouldn't do:
Use at home waxes and sprays that can result in an unwanted rash and possible reactions
Don't be silly and do a rushed cheap home job, do it right and feel right.
Don't attempt to pluck your own eyebrows and mid brow.
Only shave your chest if it's part of your prep for laser hair removal.  Don't just shave it to just remove your hair.  This will leave you will potential irritation that you won't want!
Benefits of Laser Hair Removal for men:
Laser hair removal is suitable for most areas of the body. Popular areas include chest, stomach, full back, face and neck
Say goodbye to the mono-brow with laser hair removal for your mid brow
Go below your lower back line with your laser hair removal, onto your buttocks to help control the known "hairy areas" on a man, noting that a male Brazilian is optional and up to the individual, but can be done with us
Clean up your arm pits, so they don't look like the pits
Prevent and reduce in growns
Save time and enjoy the convenience of ditching your razor and avoid the pain of waxing
Results Laser Clinic only provide fully qualified and trained staff, along with world class laser technology to have you at ease with all treatments you receive with us.
Results Laser Clinics is one of Australia's most trusted provider of Laser Hair Removal, Skin treatments & Cosmetic Injectables. Results Laser Clinic has 44 clinics nationwide & are committed to delivering results that make you look & feel your best.
For more information, call our experts or chat online, to ask any questions, or to arrange a free no commitment consultation.
Is Laser Hair Removal Safe for Pregnant Women?
Is it safe for a woman to undergo laser hair removal when trying to conceive? This question has caused great concern for both pregnant patients and laser therapists.
During the nine months of pregnancy, common discomforts experienced by women include headaches, heartburn, body pains and insomnia. The hair removal discomforts include the act of bending down whilst shaving or enduring the pain of strip waxing. In the third trimester, most women become desperate and consider most effective hair removal methods such as laser hair removal.
Before discussing safety, it is imperative to understand the mechanics of laser hair removal. The hair is eradicated as a laser beam penetrates the skin to target the follicle. It has been clinically proven that the laser beam would not penetrate the skin enough to cause damage to the foetus or the pregnant woman.
The most effective hair removal method on the market is laser. The procedure results in an 85-99 percent reduction at the conclusion of the treatment program. The most commonly treated areas by women include the underarms, face and legs. While hair is normally treated within 6-10 treatments, hormonal changes as well as patterns of hair growth ultimately determine the actual number of required treatments.
The only time certain areas should be avoided are the Brazilian and abdomen during the final trimester. This is due to the fact that the baby is developing in those areas. Woman should also avoid treatment on the breasts as they are vital for breast feeding.
Note: This article is for informational purpose only. Please contact your doctor/dermatologist for proper guidance and information.